Join the fast growing team at New World Realty - Part of Western Canada's largest independent real estate organization. Be part of our team of more than 870 knowledgable and caring real estate professionals and get the training and experience you deserve to jump start your career. Contact us today and learn how you can get started!
C
ongratulations on becoming a real estate professional. You're now part of an extensive network of REALTORS® throughout British Columbia and beyond. You have accomplished a significant milestone in your career.
The Royal Pacific Realty Group invites you to experience this rewarding profession. It's full of challenges and motivators, and is one of the most rewarding given that our role is to help home buyers locate their perfect home – a place which holds so much significance and meaning in our communities.
We understand that every REALTOR® has different criteria to satisfy when they are deciding which firm to choose. It's an important decision and you need to choose the best brokerage firm to meet your individual needs. Royal Pacific Realty Group invites you to take the time to meet any of our office managers at any of our offices closest to you and talk about why you should consider this great opportunity before you take the next step in your career path. We can help you have a successful, rewarding career.
I wish all of the success and fulfillment that this profession has to offer and I look forward to seeing you be part of our team.
Yours sincerely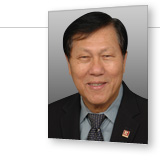 Sing L. Yeo
President
New World Realty